Brayton Orchard, The Ohio State University
This tutorial is a quick introduction to the basics of Circos.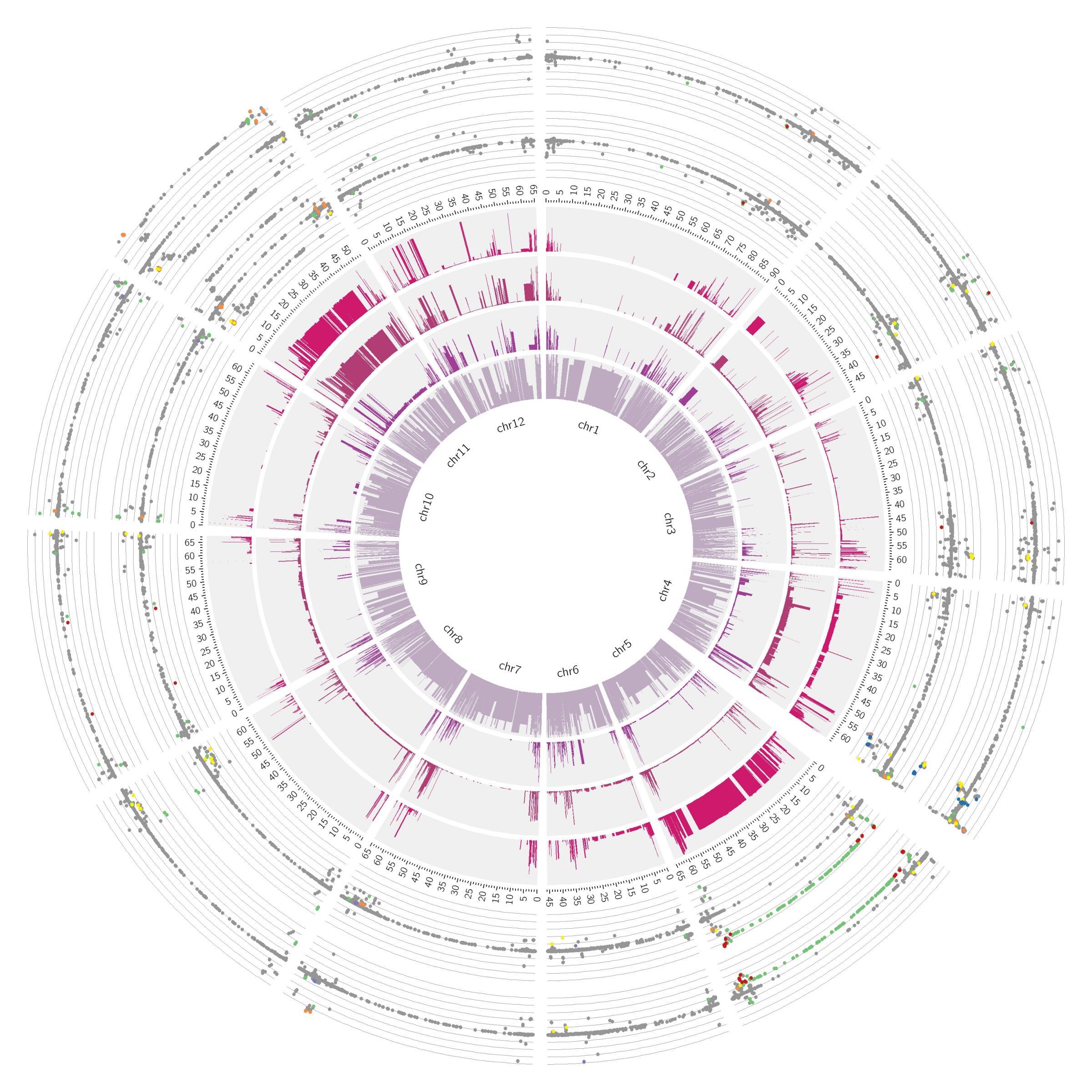 Figure 1: Circos creates information-dense, visually rich figures; allowing a genome to be visualized as a continuous entity and facilitating clear comparisons between chromosomal data.
This tutorial describes how to install Circos and create figures using a Windows operating system.
Installation
A walkthrough for downloading and installing Circos on a Windows computer PDF 1.7 MB
Download Circos software free at: http://www.circos.ca/software/
Overview of a Basic Circos Image
The Circos program itself is run from a command line editor which calls and executes text files (configuration files) containing information used to make an image.  This makes the process of understanding how the syntax and grammar of configuration files affect their associated images somewhat slow.  The accompanying PDF (14.1 MB) will allow you to quickly scroll through side-by-side images and configuration files to understand basic functions of Circos more rapidly.  Video demonstrations below will take you though this same PDF file and provide explanatory comments.
After you have completed the tutorial and are starting to feel comfortable with Circos, you can try and recreate the more complex image in Fig 1, or use data from your own project to make an image.  Data and configuration files for the Fig 1 image (and images used in the tutorial itself) are included in the attached folder bin_data_images.zip below.  You will need to decompress or unzip these folders after downloading.  Put the files/folders contained in the "bin" and "data" folders into the folders of the same name in the main Circos folder that will appear after you install the program. 
Part 1 of 4: File Structure and Configuration Files
Part 2 of 4: 2D Data Tracks
Part 3 of 4: Data Format
Part 4 of 4: Rules
Addtional Resources
Martin Krzywinski's online Circos tutorials (from which this tutorial has been adapted) for in-depth information
Solanaceae Coordinated Agricultural Project (SolCAP) Data
Recommended Reading 
Krzywinski, M. et al. Circos: an Information Aesthetic for Comparative Genomics. Genome Res (2009) 19:1639-1645. 
PBGworks 1729