Nicholas Wheeler, Oregon State University
David Harry, Oregon State University
Heather L. Merk, The Ohio State University
This is the seventh module in a series of 16 developed by the Conifer Translational Genomics Network (CTGN). This module explores measuring, organizing, and interpreting marker variation.
Introduction
The seventh module in the CTGN series takes us beyond foundational concepts covered in modules 1-6 and is the first in a series covering the genetic dissection of complex traits. Module 7 revisits and expands upon materials and concepts delivered in previous modules, particularly module three: population genetics. This module magnifies the topic through the lens of genetic markers, which we have argued, are the means by which we draw genetic inferences. In particular, we expand our discussion to include genomics and the layered effects of measuring genetic diversity at the nucleotide level. To put this module in perspective, recall our claim that population genetics is largely about three things: how much genetic diversity is there? how is that diversity distributed? how did it get to be that way? This module reviews some familiar measures, concepts, and tools and along the way introduces some new ones; notably neutral theory, the coalescent theory, and molecular population genetics, or population genomics.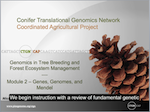 Module 7 — Measuring, Organizing, and Interpreting Marker Variation
See other Conifer Translational Genomics Network Online Modules
You can also watch the video on YouTube.
References Cited
Bamshad, M., and S. P. Wooding. 2003. Signatures of natural selection in the human genome. Nature Reviews Genetics 4: 92-111. (Available online at: http://dx.doi.org/10.1038/nrg999) (verified 8 March 2011).
Excoffier, L., P. E. Smouse, and J. M. Quattro. 1992. Analysis of molecular variance inferred from metric distances among DNA haplotypes: Application to human mitochondrial DNA restriction data. Genetics 131: 479-491.
Excoffier, L. 2009. Detecting loci under selection in a hierarchically structured population. Heredity 103: 285-298. (Available online at: http://dx.doi.org/10.1038/hdy.2009.74) (verified 8 March 2011).
Falush, D., M. Stephens, and J. K. Pritchard. 2003. Inference of population structure using multilocus genotype data: Linked loci and corrected allele frequencies. Genetics 164: 1567-1587.
Hartl, D. L. 2000. A primer of population genetics. Sinauer Associates, Sunderland, MA.
Luikart, G., P. R. England, D. Tallmon, S. Jordan, and P. Taberlet. 2003. The power and promise of population genomics. Nature Reviews Genetics 4: 981-994. (Available online at: http://dx.doi.org/10.1038/nrg1226) (verified 8 March 2011).
Pritchard, J. K., M. Stephens, and P. Donnelly. 2000. Inference of population structure using multilocus genotype data. Genetics 155: 945-959.
González-Martínez, S. C., E. Ersoz, G. R. Brown, N. C. Wheeler, and D. B. Neale. 2006. DNA sequence variation and selection of tag SNPs at candidate genes for drought-stress response in Pinus taeda L. Genetics 172: 1915-1926. (Available online at: http://dx.doi.org/10.1534/genetics.105.047126) (verified 8 March 2011).
Wheeler, N. C. 1981. Genetic variation in Pinus contorta Doubl. And related species of the subsection Contortae Ph. D. Thesis, University of Wisconsin, Madison, WI.
External Links
Cite This Learning Module
Author Contributions
Nicholas Wheeler and David Harry developed the learning module content.
Heather Merk developed the webpage.
Funding Statement
Support for the Conifer Translational Genomics Network project and the development of the teaching modules hosted here was provided by the USDA/NRI CSREES Plant Genomics Coordinated Agricultural Project (CAP) Award # 2007-55300-18603, the USDA/NIFA AFRI Applied Plant Genomics CAP Award #2009-85606-05680 and the USDA Forest Service. Development of this page was supported in part by the National Institute of Food and Agriculture (NIFA) Solanaceae Coordinated Agricultural Project, agreement 2009-85606-05673, administered by Michigan State University. Any opinions, findings, conclusions, or recommendations expressed in this publication are those of the author(s) and do not necessarily reflect the view of the United States Department of Agriculture.
PBGworks 1105