Nicholas Wheeler, Oregon State University; David Harry, Oregon State University; Heather L. Merk, The Ohio State University
This is the second module in a series of 17 developed by the Conifer Translational Genomics Network (CTGN) and the Conifer Reference Genome Sequencing (PineRefSeq) Project. This foundation module by CTGN reviews genes, genomes, and Mendelian genetics.
Introduction
This module reviews fundamental genetic properties and definitions as they pertain to virtually all living things. The goal of this module is to provide a quick refresher in genetics to bring focus to the basis of heredity and marker informed breeding.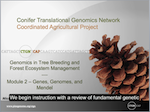 Module 2 – Genes, Genomes, and Mendel
See other Conifer Genomics Modules
You can also watch the video on YouTube.
References Cited
Gardner, E. J., M. J. Simmons, and D. P. Snustal. 1991. Principles of Genetics. 8th Ed. John Wiley and Sons, Hoboken, NJ.
Gibson, G., and S. V. Muse. 2004. A primer of genome science. Sinauer Associates, Sunderland, MA.
Lewin, B. 2000. Genes VII. Oxford University Press, New York.
Strickberger, M. W. 1976. Genetics 2nd edition. Macmillan Publishing, New York.
White, T. L, W. T. Adams, and D. B. Neale. 2007. Forest genetics. CAB International, Wallingford, United Kingdom. (Available online at: http://bookshop.cabi.org/?page=2633&pid=2043&site=191) (verified 26 May 2011).
External Links
Cite This Learning Module
Author Contributions
Nicholas Wheeler and David Harry developed the learning module content.
Heather Merk developed the webpage.
Funding Statement
Support for the Conifer Translational Genomics Network project and the development of the teaching modules hosted here was provided by the USDA/NRI CSREES Plant Genomics Coordinated Agricultural Project (CAP) Award # 2007-55300-18603, the USDA/NIFA AFRI Applied Plant Genomics CAP Award #2009-85606-05680 and the USDA Forest Service. Development of this page was supported in part by the National Institute of Food and Agriculture (NIFA) Solanaceae Coordinated Agricultural Project, agreement 2009-85606-05673, administered by Michigan State University. Any opinions, findings, conclusions, or recommendations expressed in this publication are those of the author(s) and do not necessarily reflect the view of the United States Department of Agriculture.
PBGworks 1102