Nicholas Wheeler, Oregon State University; Jill Wegrzyn, University of California, Davis; David Harry, Oregon State University; Heather L. Merk, The Ohio State University
This is the sixth module in a series of 17 developed by the Conifer Translational Genomics Network (CTGN) and Pine Reference Sequence (PineRefSeq). This foundation module by CTGN reviews genetic markers.
Introduction
This module reviews genetic markers. The topic of genetic markers, similar to the topics covered in modules 1-5, could embrace a wide range of material encompasing an entire course. This constrained treatment focuses largely on the SNP, or single nucleotide polymorphism, following a general introduction. To say that markers are important to the science of genetics is an understatement. Not only have they provided the tools to investigate genetic mechanisms, but they are the means by which we endeavor to dissect complex genetic traits and complement traditional crop improvement methods.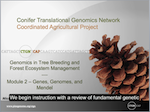 See other Conifer Genomics Modules
You can also watch this video on YouTube.
References Cited
 Baker, M. 2010. Next-generation sequencing: adjusting to data overload. Nature Methods 7: 495–499. (Available online at: http://dx.doi.org/10.1038/nmeth0710-495) (verified 31 May 2011).
Pierce, B. A. 2010. Genetics Essentials: Concepts and Connections 1st Edition. W. Freeman and Co., New York.
Shendure, J., and H. Ji. 2008. Next-generation DNA sequencing. Nature Biotechnology 26: 1135-1145. (Available online at: http://dx.doi.org/10.1038/nbt1486) (verified 23 March 2011).
White, T. L, W. T. Adams, and D. B. Neale. 2007. Forest genetics. CAB International, Wallingford, United Kingdom. (Available online at: http://bookshop.cabi.org/?page=2633&pid=2043&site=191) (verified 27 Apr 2011).
External Links
National Center for Biotechnology Information [Online]. U.S. National Library for Medicine, National Institutes of Health. Available at: http://www.ncbi.nlm.nih.gov (verified 31 May 2011).
Additional Resources
Fagaceae genomics web: Genomic tools for chestnut, oak, beech, and other trees [Online]. Available at: http://fagaceae.org (verified 31 May 2011).
Neale, D., J. Wegrzyn, B. Figueroa, and J. Yu. Tree genes: A forest tree genome database [Online]. University of California at Davis. Available at: http://dendrome.ucdavis.edu/treegenes (verified 31 May 2011).

Treenomix [Online]. University of British Columbia. Available at: http://www.treenomix.ca (verified 31 May 2011).
Cite This Learning Module
Author Contributions
Nicholas Wheeler, Jill Wegrzyn, and David Harry developed the learning module content.
Heather Merk developed the webpage.
Funding Statement
Support for the Conifer Translational Genomics Network project and the development of the teaching modules hosted here was provided by the USDA/NRI CSREES Plant Genomics Coordinated Agricultural Project (CAP) Award # 2007-55300-18603, the USDA/NIFA AFRI Applied Plant Genomics CAP Award #2009-85606-05680 and the USDA Forest Service. Development of this page was supported in part by the National Institute of Food and Agriculture (NIFA) Solanaceae Coordinated Agricultural Project, agreement 2009-85606-05673, administered by Michigan State University. Any opinions, findings, conclusions, or recommendations expressed in this publication are those of the author(s) and do not necessarily reflect the view of the United States Department of Agriculture.
PBGworks 1067