Matthew Robbins, The Ohio State University
This pages outlines, in text, slideshow animation, and video formats, the steps performed to isolate genomic DNA from plant tissue.
Introduction
An important step in molecular breeding is the isolation of DNA, which allows plants to be genotyped or sequenced. DNA can be extracted on several scales, from one to hundreds of individuals at a time, and extraction can be done by hand or automated by using robots. For many procedures, only a small amount of leaf tissue—the size of a hole punch—is needed. Although specific protocols differ depending on the crop and extraction scale, the general steps to isolate DNA are as follows:
Plant tissue is harvested and placed in tubes or plates.
The tissue is homogenized to separate the cells from each other.
The plant cells and nuclei are lysed in the presence of an extraction buffer; the buffer contains salt and chemicals to help lyse the plant cells, stabilize the DNA, and reduce degradation.
The DNA is purified from cellular debris and other molecules such as proteins.
The DNA is precipitated by adding alcohol in the presence of salts.
The DNA precipitate is collected and washed.
The DNA is rehydrated in water or buffer solution.
Resources on DNA extraction
This video illustrates the basics of DNA extraction and gel electrophoresis in tomato. A transcript is available.
As part of their education and outreach, Wheat CAP developed a DNA extraction animation: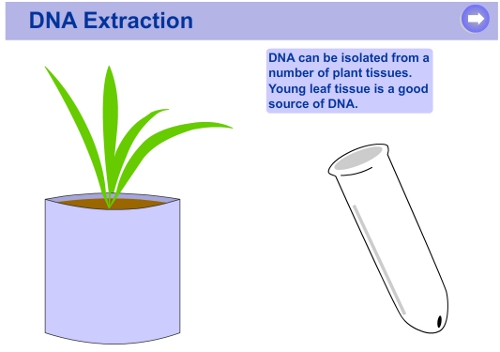 Photo credit: Wheat CAP.
External Links
Additional Resources
Funding Statement
Development of this lesson was supported in part by the National Institute of Food and Agriculture (NIFA) Solanaceae Coordinated Agricultural Project, agreement 2009-85606-05673, administered by Michigan State University. Any opinions, findings, conclusions, or recommendations expressed in this publication are those of the author(s) and do not necessarily reflect the view of the United States Department of Agriculture.
PBGworks 656