Nicholas Wheeler, Oregon State University; David Harry, Oregon State University; Heather L. Merk, The Ohio State University
This is the fifth module in a series of 17 developed by the Conifer Translational Genomics Network (CTGN) and the Conifer Reference Genome Sequencing (PineRefSeq) Project. This foundation module by CTGN introduces tree breeding and provenance trials.
Introduction
In this module, basic concepts of crop improvement, using trees as model organisms, are presented. Provenance trials, also known in the ecological literatures as common garden trials, are also introduced. As will be seen, the provenance trial is a powerful tool for the tree breeder and forest ecosystem manager alike, and takes on added relevance in situations where changing environmental/climatic conditions are anticipated. Tree breeding is conceptually simple, but in practice is complex, time-consuming, and expensive. Molecular markers already have utility in the tree breeding process for fingerprinting and paternity analysis, applications that can reduce costs and increase gain. The goal of the CTGN project is to further develop the methods and knowledge that will allow genomic tools to be fully integrated into the genetic selection aspects of tree improvement. It is anticipated that such applications would significantly increase the efficiency of natural selection and reduce the time it takes to make improvement in artificial populations. The same tools developed for tree breeding should have direct utility for management of natural populations.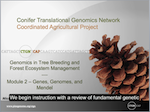 Module 5 – Introduction to Tree Breeding and Provenance Trials
See other Conifer Genomics Modules
You can also watch the video on YouTube.
References Cited
Cite This Learning Module
Author Contributions
Nicholas Wheeler and David Harry developed the learning module content.
Heather Merk developed the webpage.
Funding Statement
Support for the Conifer Translational Genomics Network project and the development of the teaching modules hosted here was provided by the USDA/NRI CSREES Plant Genomics Coordinated Agricultural Project (CAP) Award # 2007-55300-18603, the USDA/NIFA AFRI Applied Plant Genomics CAP Award #2009-85606-05680 and the USDA Forest Service. Development of this page was supported in part by the National Institute of Food and Agriculture (NIFA) Solanaceae Coordinated Agricultural Project, agreement 2009-85606-05673, administered by Michigan State University. Any opinions, findings, conclusions, or recommendations expressed in this publication are those of the author(s) and do not necessarily reflect the view of the United States Department of Agriculture.
PBGworks 1104