Nicholas Wheeler, Oregon State University; David Harry, Oregon State University; Heather L. Merk, The Ohio State University
This is the first module in a series of 17 developed by the Conifer Translational Genomics Network (CTGN) and the Conifer Reference Genome Sequencing (PineRefSeq) Project. This first module by CTGN introduces CTGN and provides an overview of the online series.
Introduction
Tree breeders and forest geneticists have long sought means by which they could improve the efficiency, increase the gain, or reduce the cost of tree improvement through the use of genetic markers. Dramatic improvements in genomic technologies spurred by development of next generation sequencing and high-throughput genotyping platforms have brought application clearly within reach. Coupled with continuous development of bioinformatic tools and breeding theory, our knowledge of genes and genomes in forest trees makes marker informed breeding (MIB) and gene resource management tangible options in the very near term. The instructional modules offer a comprehensive view of how MIB and MIGRM (marker informed gene resource management) may play an expanding role in tree breeding and ecosystem management.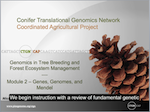 See other Conifer Genomics Modules
You can also watch this video on YouTube.
External Link
Cite This Learning Module
Author Contributions
Nicholas Wheeler and David Harry developed the learning module content

Heather Merk developed the webpage
Funding Statement
Support for the Conifer Translational Genomics Network project led the development of the teaching modules hosted here was provided by the USDA/NRI CSREES Plant Genomics Coordinated Agricultural Project (CAP) Award # 2007-55300-18603, the USDA/NIFA AFRI Applied Plant Genomics CAP Award #2009-85606-05680 and the USDA Forest Service. Development of this page was supported in part by the National Institute of Food and Agriculture (NIFA) Solanaceae Coordinated Agricultural Project, agreement 2009-85606-05673, administered by Michigan State University. Any opinions, findings, conclusions, or recommendations expressed in this publication are those of the author(s) and do not necessarily reflect the view of the United States Department of Agriculture.
PBGworks 1101