Nicholas Wheeler, Oregon State University; Heather L. Merk, The Ohio State University
This is the 12th module in a series of 17 developed by the Conifer Translational Genomics Network (CTGN) and the Conifer Reference Genome Sequencing (PineRefSeq) Project. This module by CTGN explores applications of molecular markers in forest tree breeding other than the improving breeding value.
Introduction
This module reviews a number of marker applications that are already well developed and used by a growing number of forest tree programs around the world. These applications address objectives other than improving breeding value.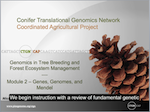 Module 12 — Marker Informed Breeding – Program Management
See other Conifer Genomics Modules
You can also watch the video on YouTube
External Link
References Cited
Grattapaglia, D. 2007. Marker–assisted selection in Eucalyptus. p. 251-281. In. E. P. Guimaraes, J. Ruane, B. D. Scherf, A. Sonnino, and J. D. Dargie (ed.) Marker assisted selection: Current status and future perspectives in crops, livestock, forestry and fish. Food and Agriculture Organization of the United Nations (FAO), Rome, Italy.
Kubisiak, T. L., F. V. Hebard, C. D. Nelson, J. S. Zhang, R. Bernatzky, H. Huang, S. L. Anagnostakis, and R. L. Doudrick. 1997. Molecular mapping of resistance to blight in an interspecific cross in the genus Castanea. Phytopathology 87: 751-759.
Lambeth, C., B. C. Lee, D. O'Malley, and N. Wheeler. 2001. Polymix breeding with parental analysis of progeny: an alternative to full-sib breeding and testing. Theoretical and Applied Genetics 103: 930-943.
Slavov, G. T., G. T. Howe, and W. T. Adams. 2005. Pollen contamination and mating patterns in a Douglas-fir seed orchard as measured by simple sequence repeat markers. Canadian Journal of Forest Research 35:1592-1603. (Available online at: http://dx.doi.org/10.1139/X05-082) (verified 2 June 2011).
Welz, H. and H. Geiger. 2000. Principles of marker assisted selection I. Qualitative traits. Training manual for a seminar held at IITA, Ibadan, Nigeria, August, 1999. Haussmann, Geiger, Hess, Hash, and Bramel-Cox, Andhra Pradesh, India ICRISAT.
White, T. L, W. T. Adams, and D. B. Neale. 2007. Forest genetics. CAB International, Oxfordshire, United Kingdom. Available online at: http://bookshop.cabi.org/?page=2633&pid=2043&site=191 (verified 2 June 2011).
External Link
Cite This Learning Module
Author Contributions
Nicholas Wheeler developed the learning module content.
Heather Merk developed the webpage.
Funding Statement
Support for the Conifer Translational Genomics Network project and the development of the teaching modules hosted here was provided by the USDA/NRI CSREES CAP Award # 2007-55300-18603, the USDA/NIFA AFRI Applied Plant Genomics Coordinated Agricultural Project Award #2009-85606-05680 and the USDA Forest Service. Development of this page was supported in part by the National Institute of Food and Agriculture (NIFA) Solanaceae Coordinated Agricultural Project, agreement 2009-85606-05673, administered by Michigan State University. Any opinions, findings, conclusions, or recommendations expressed in this publication are those of the author(s) and do not necessarily reflect the view of the United States Department of Agriculture.
PBGworks 1079