Heather L. Merk, The Ohio State University
Allen Van Deynze, University of California, Davis
This page provides a brief overview of the National Association of Plant Breeders (NAPB) and the Plant Breeding Coordinating Committee (PBCC) and includes a link to the NAPB "Giant Views" videos in which members discuss the role plant breeding may play in addressing key global issues.
Introduction
The National Association of Plant Breeders (NAPB), an initiative of the Plant Breeding Coordinating Committee (PBCC), is an outreach group that represents plant breeders in federal, state, commercial, and non-government organizations. The mission of NAPB is "to strengthen capacities for U.S. plant breeding research, technology, education, and public awareness to meet needs for plants on which our nation and world rely — for food, feed, fiber, fuels, environmental stewardship, aesthetics, recreation, and human health." PBCC "is a forum for leadership, regarding issues, problems, and opportunities of long-term strategic importance to the contribution of plant breeding to national goals."
At the 2011 NAPB meeting, members Joe Bouton of the Samuel Roberts Noble Foundation, Erich Veitenheimer of the AgBiotech Patent Practice, Cooley LLP, Rita Mumm of the University of Illinois, Allen Van Deynze of the University of California, Davis, and Todd Wehner of NC State University discuss the role of plant breeding in key global issues in a series of short videos. The videos were produced by SeedWorld.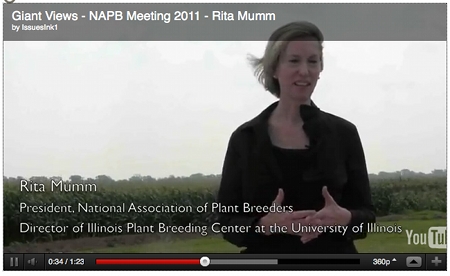 External Links
Funding Statement
Development of this page was supported in part by the National Institute of Food and Agriculture (NIFA) Solanaceae Coordinated Agricultural Project, agreement 2009-85606-05673, administered by Michigan State University. Any opinions, findings, conclusions, or recommendations expressed in this publication are those of the author(s) and do not necessarily reflect the view of the United States Department of Agriculture.
 
PBGworks 1256