Nicholas Wheeler, Oregon State University; David Harry, Oregon State University; Heather L. Merk, The Ohio State University
This is the fourth module in a series of 17 developed by the Conifer Translational Genomics Network (CTGN) and the Conifer Reference Genome Sequencing (PineRefSeq) Project. This foundation module by CTGN reviews principles of quantitative genetics in the context of forest trees.
Introduction
This module provides a brief glimpse at the world of quantitative genetics. The discipline of quantitative genetics was largely developed by those engaged in applied animal and crop improvement, though contributions are also derived from studies of natural populations. Quantitative genetics deals with metrical traits; those traits that are controlled by many genes (two to 100s), each, generally, with modest effects. Most traits of interest to breeders are quantitatively inherited. Here we introduce some basic concepts and statistical tools used in the trade and discuss some of the issues that present themselves when considering selection based on genetic markers rather than on traits themselves.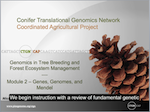 Module 4 – Quantitative Genetics
See other Conifer Genomics Modules
You can also watch the video on YouTube.
References Cited
Crow, J. F. 1997. Birth defects, jimsonweed and bell curves. Genetics 147: 1-6.
Falconer, D. S., and T.F.C. Mackay. 1996. Introduction to quantitative genetics. Longman, Essex, England.
Hartl, D. L., and E. W. Jones. 2001. Genetics: Analysis of genes and genomes, 5th edition. Jones and Barlett, Sudbury, MA.
Pierce, B. 2010. Genetics essentials: Concepts and connections, 1st edition. W.H. Freeman and Co, New York.
White, T. L, W. T. Adams, and D. B. Neale. 2007. Forest genetics. CAB International, Wallingford, United Kingdom. Available online at: http://bookshop.cabi.org/?page=2633&pid=2043&site=191 (verified 27 May 2011).
Cite This Learning Module
Author Contributions
Nicholas Wheeler and David Harry developed the learning module content.
Heather Merk developed the webpage.
Funding Statement
Support for the Conifer Translational Genomics Network project and the development of the teaching modules hosted here was provided by the USDA/NRI CSREES Plant Genomics Coordinated Agricultural Project (CAP) Award # 2007-55300-18603, the USDA/NIFA AFRI Applied Plant Genomics CAP Award #2009-85606-05680 and the USDA Forest Service. Development of this page was supported in part by the National Institute of Food and Agriculture (NIFA) Solanaceae Coordinated Agricultural Project, agreement 2009-85606-05673, administered by Michigan State University. Any opinions, findings, conclusions, or recommendations expressed in this publication are those of the author(s) and do not necessarily reflect the view of the United States Department of Agriculture.
PBGworks 1103