Nicholas Wheeler, University of California Davis; David B. Neale, University of California Davis
This is the 17th module in a series of 17 developed by Conifer Translational Genomics Network (CTGN) and the Conifer Reference Genome Sequencing (PineRefSeq) Project. This module by PineRefSeq focuses on the development of a reference genome sequence for pine.
Introduction
A reference genome is the initial sequence to which all subsequent sequences are ultimately compared, and therefore must be as complete as possible given fiscal and technical constraints. Reference genome sequences result from the de novo sequencing and assembly of a haploid complement of an organism's genome. Assembling the billions of nucleotide bases that make up the conifer genome is a monumental challenge, but important because the reference genome leads to the identification of all or most of the genes in an organism, and reveals features of the genome structure, such as the amount and order of repetitive elements and the nature of regulatory elements. Re-sequencing, or sequencing, other individuals within the same species is vastly less time consuming and costly once a reference genome exists. Re-sequencing reveals the amount and distribution of genetic variation (mutations) within a genome on an individual or population basis.
The purpose of this learning module is to describe an adaptive approach to the sequencing of very large conifer genomes. Long considered a task so daunting it might never be achieved, the development of next generation sequencing (NGS) technologies has opened the door to deciphering even these leviathan genomes. The work described in this module reflects the continuous evolution of state-of-the-art genome sequencing and the specific approaches of a team of researchers funded by the USDA NIFA AFRI program ($14.625 million dollars over five years). The reference genome produced by the PineRefSeq project, formerly known as the Loblolly Pine Genome Project, is anticipated to dramatically change the landscape of forest genetics.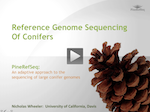 Module 17 — Reference Genome Sequencing
See other Conifer Genomics Modules
You can also watch the video on YouTube
Cite This Learning Module
Wheeler, N., and Neale, D.B. Reference Genome Sequencing [Online Learning Module]. Pine Reference Sequence. eXtension Foundation. Available at: https://plant-breeding-genomics.extension.org/reference-genome-sequencing:-conifer-genomics-module-17/ (verified April 29, 2013)
 
Funding Statement
The Conifer Reference Genome Sequencing (PineRefSeq) Project developed this resources with funding provided by the USDA/NIFA Grant #2011-67009-30030. Development of this page was supported in part by the National Institute of Food and Agriculture (NIFA) Solanaceae Coordinated Agricultural Project, agreement 2009-85606-05673, administered by Michigan State University. Any opinions, findings, conclusions, or recommendations expressed in this publication are those of the author(s) and do not necessarily reflect the view of the United States Department of Agriculture.
PBGworks 1607