This tutorial describes the use of combinatorial pooling to reconstruct gene sequences within BACs. Recent work in barley has shown that this level of sequence knowledge is sufficient to support critical end-point objectives such as map-based cloning and marker-assisted breeding. Recorded as a webinar August, 21, 2013.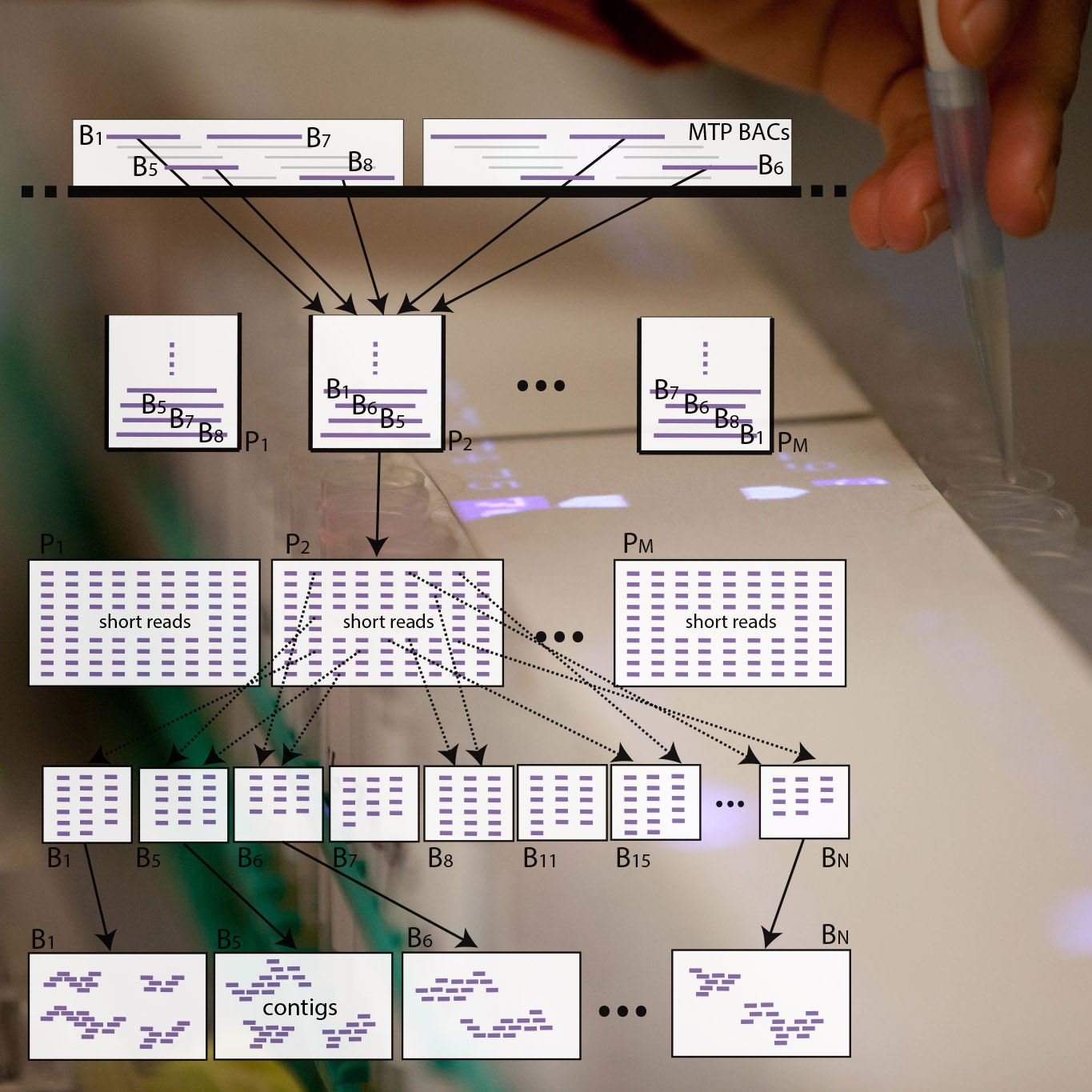 An illustration of the combinatorial pooling workflow for BAC-by-BAC genome sequencing (Figure Credit: Stefano Lonardi)
Part 1
Part 2
Part 3
Part 4
Full Recording
Software and Datasets
HashFilter Software (can be compiled/installed on Linux/MacOS)
Datasets and Scripts to experiment with Hashfilter (executable ready for a Linux machine, read the README.txt for help)
Related Publications
Stefano Lonardi, Denisa Duma, Matthew Alpert, Francesca Cordero, Marco Beccuti, Prasanna R. Bhat, Yonghui Wu, Gianfranco Ciardo, Burair Alsaihati, Yaqin Ma, Steve Wanamaker, Josh Resnik, Serdar Bozdag, Ming-Cheng Luo, Timothy J. Close (2013). Combinatorial Pooling Enables Selective Sequencing of the Barley Gene Space. PLOS Computational Biology, 9(4), e1003010.
Duma, Denisa, Mary Wootters, Anna C. Gilbert, Hung Q. Ngo, Atri Rudra, Matthew Alpert, Timothy J. Close, Gianfranco Ciardo, and Stefano Lonardi (2013) Accurate Decoding of Pooled Sequenced Data Using Compressed Sensing. 13th Workshop on Algorithms in Bioinformatics. preprint arXiv:1307.7810.
Additional Resources
BLAST search of Morex BAC sequences (UC Riverside server)
International Barley Genome Sequencing Consortium
Joint Genome Community Sequencing Program
TriticeaeCAP Triticeae Toolbox
Presenters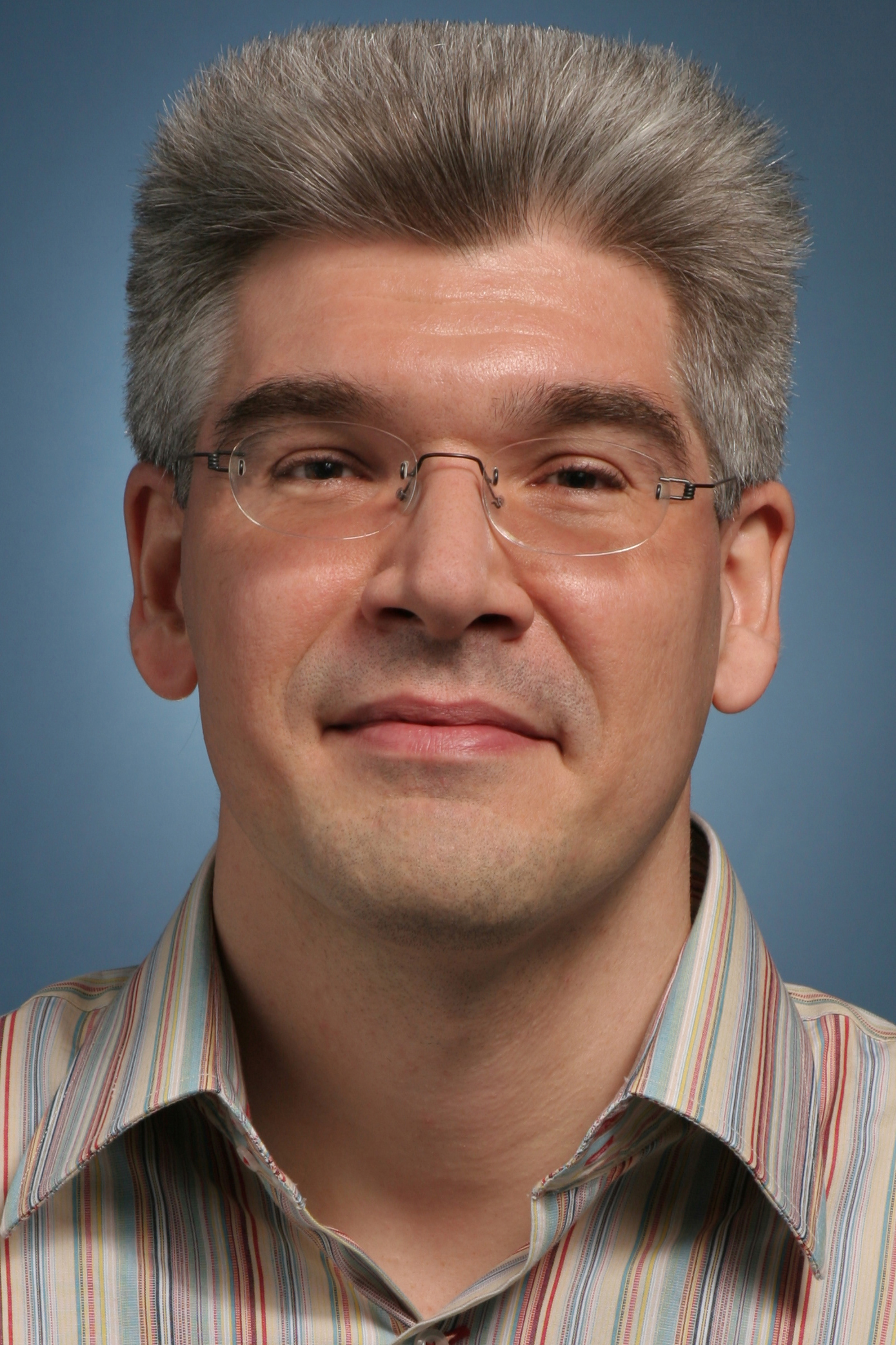 Stefano Lonardi is a UC Riverside Professor and Associate Chair in the College of Computer Science and Engineering.  Stefano received his Laurea cum laude from University of Pisa in 1994 and his Ph.D. in the summer of 2001 from the Department of Computer Sciences, Purdue University, West Lafayette, IN. He also holds a doctorate degree in Electrical and Information Engineering from University of Padua (1999). During the summer of 1999, he was intern at Celera Genomics, Department of Informatics Research, Rockville, MD.
Stefano's recent research interest includes design of algorithms, computational molecular biology, data compression and data mining. He has published over 100 peer-reviewed papers in major theoretical computer science and computational biology journal conferences. In the year 2005, he received the CAREER award from National Science Foundation. He has received funding from NSF, NIH, DARPA, and USDA. He is currently serving on the Steering Committee of IEEE Transactions on Computational Biology and Bioinformatics.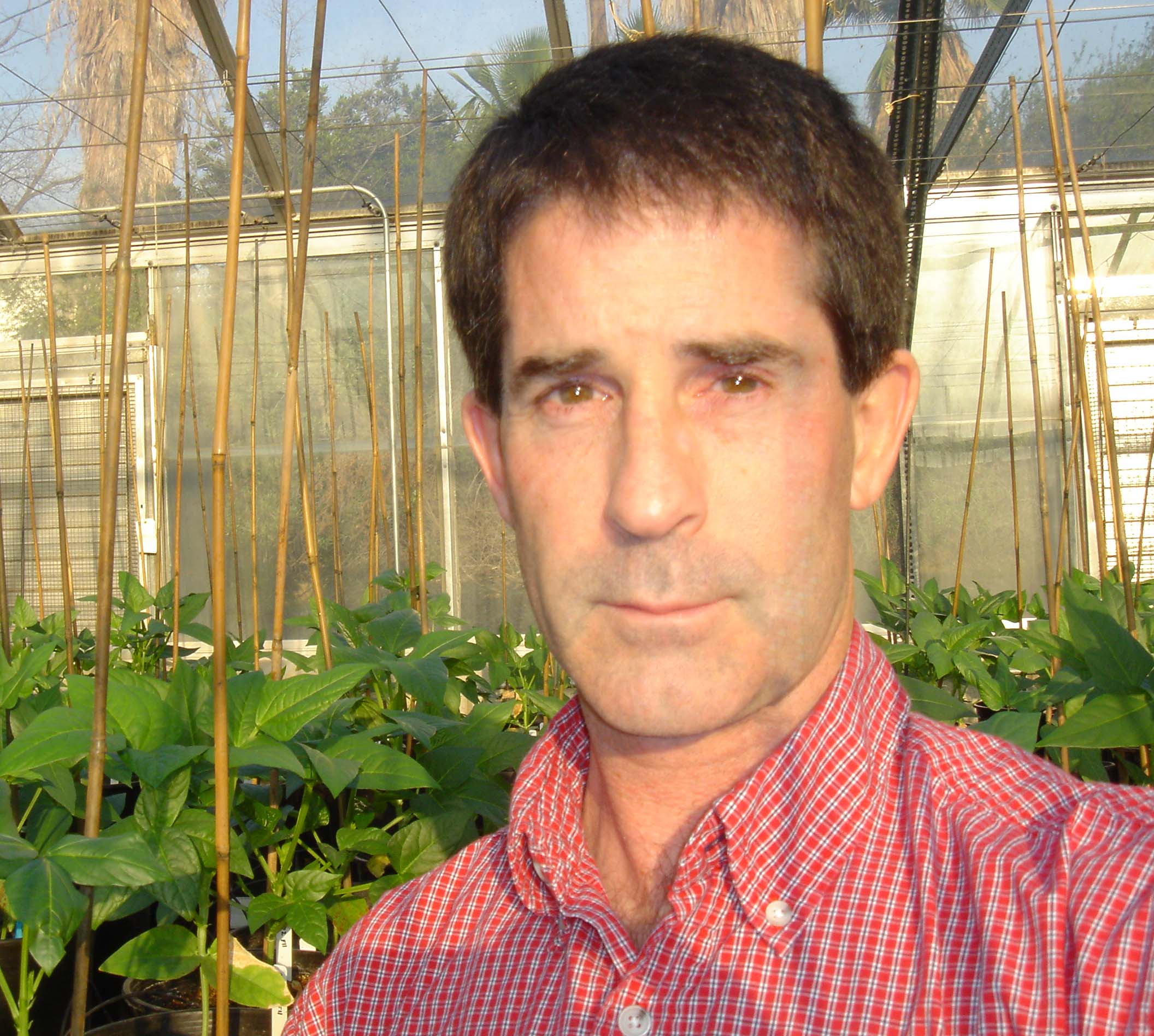 Timothy Close is a Geneticist in the Agricultural Experiment Station and Professor in the Department of Botany & Plant Sciences in the College of Natural and Agricultural Sciences at the University of California, Riverside, CA. He is also a faculty member of the Graduate Program in Genetics, Genomics and Bioinformatics and a member of the Institute for Integrative Genome Biology. Tim received his B.A. in Biology from the University of California, San Diego in 1976, then a M.Sc. in Genetics in 1979 and Ph.D. in Genetics in 1982 from the University of California, Davis. He joined the faculty at UC Riverside in 1990 and was a NSF Divisional Young Investigator from 1992-1998.
Tim's recent research interest includes genome resources and their application for crop plant improvement through breeding, including mainly barley, cowpea and citrus. He has received funding from the USDA, NSF, California Citrus Research Board, North American Barley Genome Project, University of California Discovery Grants Program, CGIAR Generation Challenge Program, and Southwest Consortium on Plant Genetics and Water Resources. Tim was one of the founders of the International Barley Sequencing Consortium, which in recent years has developed genome information resources enabling the adoption of markers in barley breeding programs worldwide. Tim is presently part of the USDA-NIFA TriticeaeCAP (triticeaecap.org) where high density markers are being put into practice for wheat and barley germplasm analyses and variety improvement. Tim also is currently one of the leaders of the UC Riverside cowpea research team, which sustains a 30 year legacy of cowpea breeding at UC Riverside with partners in Senegal, Burkina Faso and Nigeria in Sub-Saharan Africa, and Mozambique. The sequencing of "gene-bearing" segments (bacterial artificial chromosomes; BACs) throughout the barley genome and a nearly complete collection of overlapping BACs of the cowpea genome provide a level of information that supports objectives such as map-based cloning for basic research and marker development for breeding purposes. Tim has published about 140 peer-reviewed papers in a range of mainly biological journals, recently including several papers describing map positions and nearby markers for barley and cowpea traits, the latter including leaf shape, Fusarium resistance, drought tolerance, thrips resistance, heat tolerance and seed size.
Funding Statement
Development of this resource was supported in part by the National Institute of Food and Agriculture (NIFA) Solanaceae Coordinated Agricultural Project, Dry Bean Root Health East Africa, and the Triticeae Coordinated Agriculture Project.  Any opinions, findings, conclusions, or recommendations expressed in this publication are those of the author(s) and do not necessarily reflect the view of the United States Department of Agriculture.
PBGworks 1610